Racial discrimination is regardless of age, occupation, gender and region, unexceptional of racial  cases often occurs in people's daily life. How could we protect our self? The International Forum on Anti-Racial Discrimination was held online recently in theme of sharing and discussing these issues
It was organized by four organizations across the U.S. and the U.K., including Roundtable of Southern California Chinese-American Organizations (RCAO), International Chinese Alliance Against Racism (iCAAR) UK, Professors and Experts Federation USA, and UK Society of Chinese Lawyers.  The forum discussed the current issues regarding racial discrimination in the U.S. and the U.K. They addressed the concerns about the increasing number of hate crimes and violence during the pandemic, and suggested methods to promote racial equality in both the community and the workplace.  Over 200 attendees from the US, UK and Europe participated the forum via Zoom.
The four keynote speakers at the forum are from both U.S. and U.K. with different backgrounds, including former California State Senator and now entrepreneur, UCLA scholar, Member of Parliament in UK, and a community-based antiracist organization leader.  Dr. Bob Huff served in the California State Legislature for 12 years, of which he served as the Senate Minority Leader for three years.  Since then, he and his wife Mei Mei, have formed Huff Strategies LLC, specializing in government relations, community outreach and business development.  Dr Huff shared his extensive experience in advocating racial equality and emphasized on what we can do to overcome racial discrimination.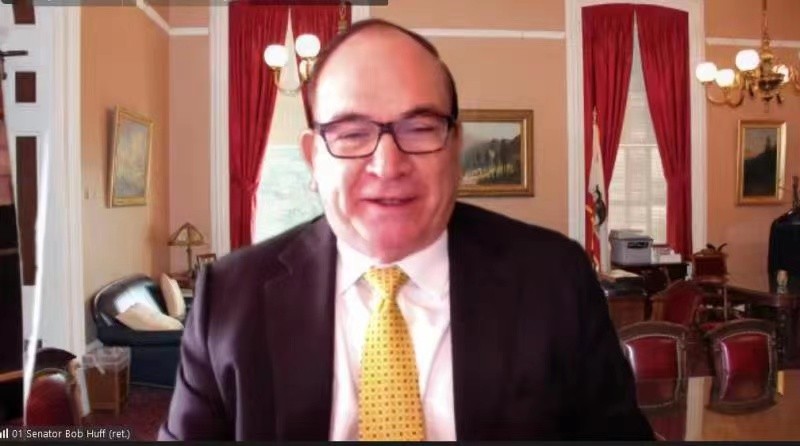 (Dr. Bob Huff, keynote speaker at forum)
Another keynote speaker Dr Min Zhou, a Distinguished Professor of Sociology and Asian American Studies and Director of the Asia Pacific Center at the University of California, Los Angeles.  She spoke about the model minority stereotype and its impact on Asian Americans.  She examined the transition from the "yellow peril" in the past to the present "model" minority stereotype and its impact on Asian Americans.
Ms. Sarah Owen is the first female MP of East or South East Asian descent in the UK Parliament. She has been working to highlight the worrying rise in hate crime faced by East and South East Asian communities in the UK during the pandemic, she also presided the first ever parliamentary debate on the issue.  At forum her speech of the topic was discrimination against women and hatred of East and Southeast Asians.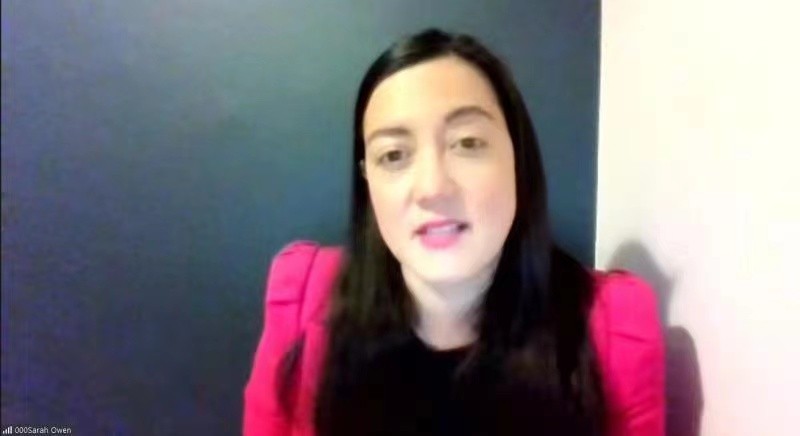 (Keynote speaker Ms. Sarah Owen) 
Mr. Suresh Grover, from the U.K. is a founder and co-Director of The Monitoring Group, UK's national community-based antiracist organization, established 40 years ago. The Monitoring Group provides advocacy, research and trauma services on daily basis.  The UK's newspaper "The Guardian" has described Suresh Grover "as one of the 100 most influential people on social policy in the United Kingdom". As a keynote speaker Grover expounded "Racism and Anti-racism: the key features of the British experience" at forum.
RCAO honorary chairwoman Ms. Sue Zhang, RCAO chairwoman Ms. Phoebe Chen Huang, and President of iCAAR and UK Society of Chinese Lawyers Dr. Xiaojiu Zhu MBE made welcome remarks.  They pointed out that this forum is open to the public and held in English, aiming to promote public awareness and enhance understanding and inclusion among different racial and ethnic groups.
(Dr. Xiaojiu Zhu MBE Founder of  iCAAR)
One of the forum host Dr. Lianlian Lin said in her summary speech and shared two takeaways from the forum.  She expressed that both U.S. and U.K are facing same challenges and we need to join forces internationally to fight against racism.  The personal experiences of the keynote speakers are very inspirational.  We should take our share of responsibility to stop hate crime and violence.  Lin is a President of Professors and Experts Federation USA and Professor at Cal Poly Pomona.
RCAO was established in 2005. It's a US based oversea Chinese leading society for many Chinese organization in South California and organized various major events in the community. Currently RCAO has 140 Chinese group members.
iCAAR (International Chinese Alliance Against Racism ) was founded by Xiaojiu Zhu MBE, President of UK Society of Chinese Lawyers in May 2020. iCAAR designed to be an international voice advocating against racial discrimination globally. The members of iCAAR are leaders of oversea Chinese communities and international media, legal professionals from over 30 countries. iCAAR share and exchange information on racial discrimination and report cases regularly in Chinese and English.