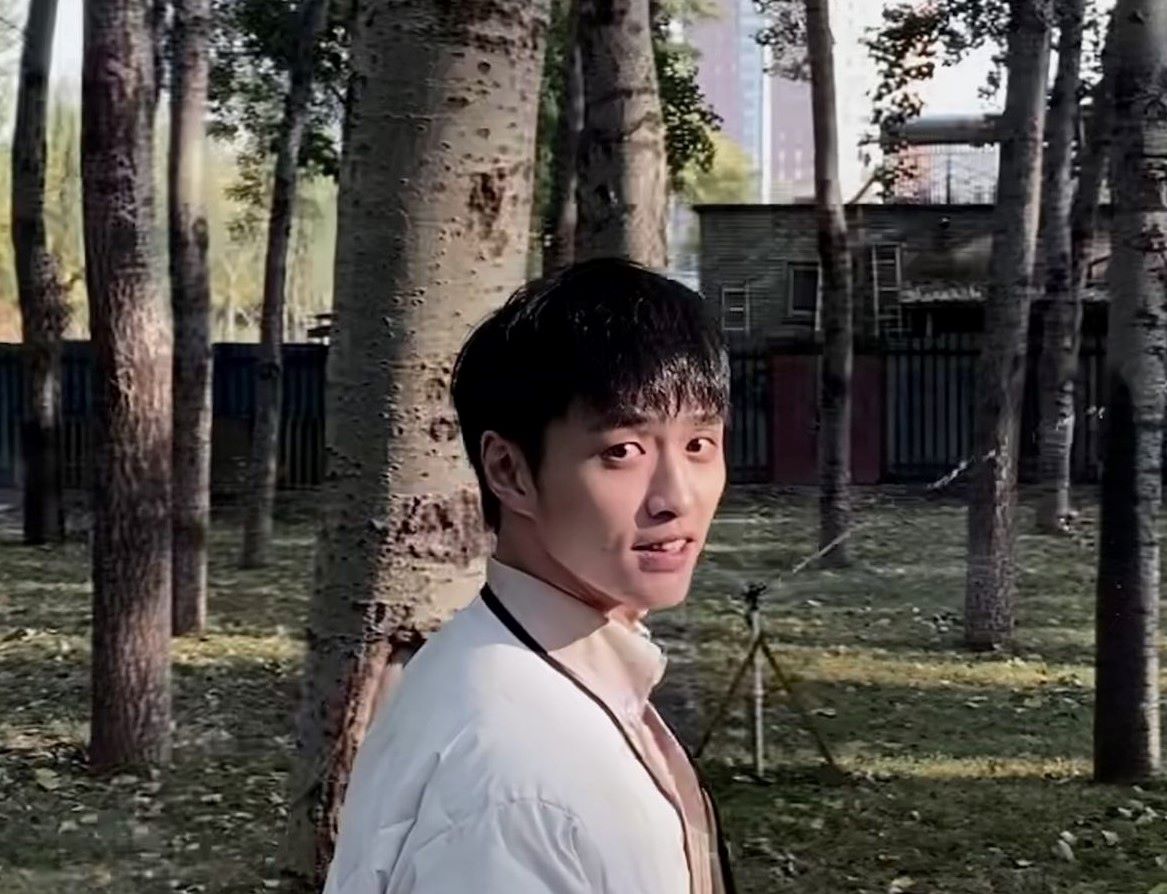 ( Artist Zhang Lingrui )
Zhang Lingrui is an extraordinary artist making phenomenal waves across the Chinese art scene. He has cultivated his passion and talent for painting since early childhood. As a young adult, he studied oil painting at China's most prestigious art institution, the China Central Academy of Fine Arts (CAFA) before undertaking a MA in painting at world-renowned Royal College of Art (RCA) in London, UK. In London, he immersed himself in the world of contemporary art, learning new techniques and styles to expand his artistic repertoire. Still not yet 30 years old, Zhang has transitioned from an art student to a visionary artist, who focuses on independent thought, new artistic concepts and intimate, candid styles of creative expression. His goal is to define artistic excellence on his own terms.
Zhang Lingrui was born in 1994 in Hefei, Anhui ("Peaceful Beauty") Province, a landlocked region in south east China. In 2013, he successfully passed a rigorous examination and gained admission to the renowned CAFA to pursue his undergraduate studies in traditional art disciplines with a focus on oil painting. During his time at CAFA, he learnt how to harness his creativity by laying down a strong foundation in his drawing skills as this was the essential first step to creating a piece of art. This involved many hours dedicated to studying colour theory and sketching exercises. This demanding training required unlimited patience and unwavering perseverance as the more basic the exercises, the greater the need for meticulous refinement and painstaking attention to detail to achieve the desired end goal. Zhang Lingrui observed that some of his student peers struggled to adapt to the rigidity of this training as they felt demotivated and disillusioned. They did not understand the value of developing painting skills through representational art techniques and were more drawn to methods in abstract art and surrealism. Zhang Lingrui modestly considers himself fortunate that CAFA's challenging training with a strong emphasis on precision and repetition, worked well for him. He credits the programme for the mature technical painting skills he gained as he felt empowered to pursue new ideas and create his own unique art. He explained "When I have a creative idea, I don't hesitate about my ability to express it because the past four years of university education have given me great confidence in my command of the technical skills needed to create what I have in mind." During his undergraduate student career, Zhang's works were chosen several times to participate in distinguished international youth art exhibitions.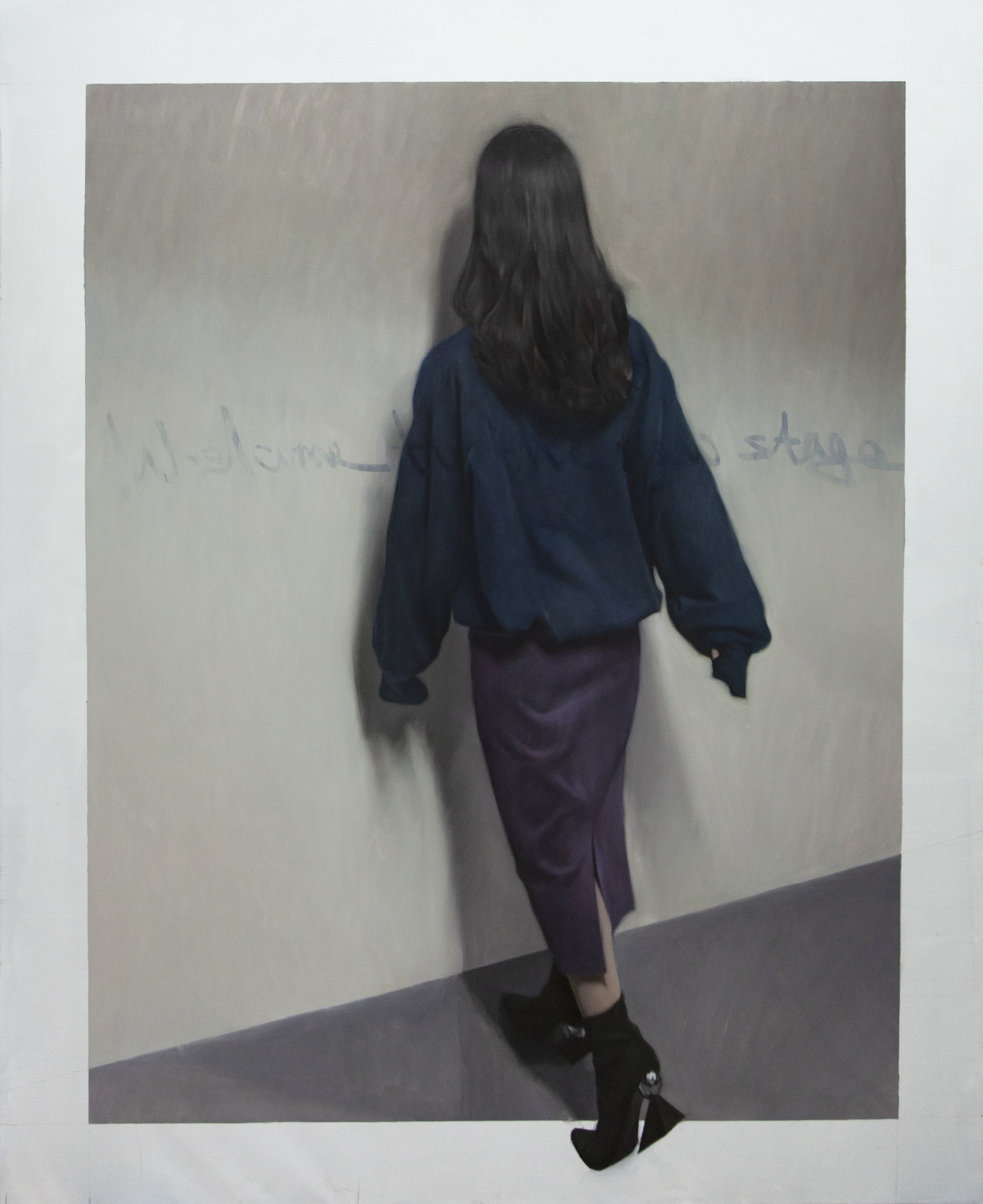 ( Bong 180 x 120 cm  Oil on linen 2020 )
During the early stages of Zhang Lingrui's career, his artistic concepts were highly introspective. Growing up in China, he found it challenging to express his conflicting thoughts and feelings about taboo aspects of the human body and human nature through art. As a teenager, he did not understand complex subjects such as gender dynamics and relationships between life and time and space. Difficult life experiences such as his parents' divorce and the consequential restructuring of his family and entrance of new characters, helped him appreciate the harsh grey tones of the world instead of simple black and white. The warm harmony of his old family life became a distant memory as he learnt to navigate the uncertainty and sensitivity of new interpersonal relationships.  He developed an understanding of how human character has the strength to take several different forms yet is still vulnerable enough to be manipulated like a puppet by other forces. Although his internal conflict was a significant burden to carry initially, his contemplation and reflection helped him find ways to express his thoughts and feelings through art, which in turn helped him cope and thrive despite those challenges.
Zhang Lingrui relished his traditional art education rooted in representational art at CAFA as it provided the foundation for exploration of newer artistic concepts and techniques. Simultaneously exploring and experimenting with both traditional and contemporary art methods helped him reflect on the multifaceted aspects of society and the journey from tradition to innovation in human culture. Representational or realistic pieces of art leave a defined impression on viewers as the viewers are enabled to understand the artist's vision and message directly. Zhang turned this traditional form of communication between artist and viewer around by creating a barrier on top of his art. Through this distinct barrier, Zhang encourages the viewers to unleash their imagination and contemplate human nature, relationships, responsibilities and other aspects of reality depicted by the figures in his paintings. By making his artistic vision opaque, he asks the viewers to determine the original artistic concept themselves from different angles. When viewers have different interpretations of the artist's work, this creates a two-way interactive connection between the artist and the viewer. Zhang finds this relationship more intriguing and meaningful compared to the more traditional almost-didactic relationship the artist and viewer share. Zhang recognises the viewers' feedback as an invaluable part of the ongoing journey in developing his artistry.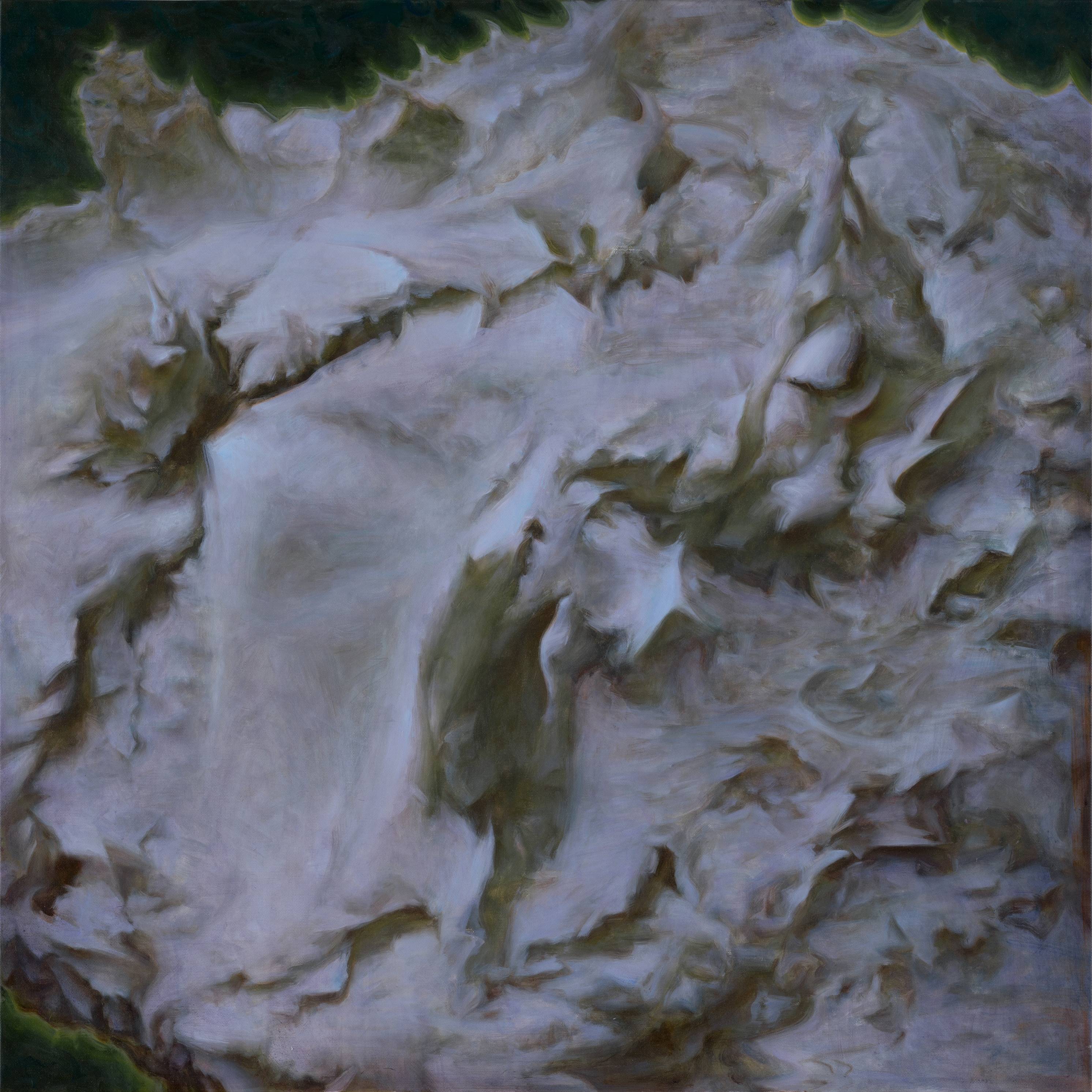 (Freshly peeled    120 x 120 cm Oil on linen 2023 )
Zhang Lingrui consistently achieved outstanding results during his undergraduate studies and graduated from CAFA as one of the top students. He was offered artist contracts from several renowned art institutions in China upon graduation and his path to professional fame and glory seemed set in stone. However, Zhang with humility and wisdom beyond his years, felt he had more to learn and to study before that next step. He had a strong desire to explore new academic atmospheres, new artistic teaching environments and philosophies to further enrich his artistry.
In 2018, Zhang Lingrui was admitted to the Royal College of Art (RCA) in London, the most eminent art institution in the United Kingdom, obtaining a highly coveted postgraduate student place in painting. The teaching approach favoured at RCA was extremely different to CAFA; it was a more relaxed yet highly dynamic environment. Tutors did not impose specific themes or constraints on students. Students had complete freedom to express whatever they wished using whichever painting mode they chose. Tutors supported the students in their artistic endeavours through frequent but not strictly scheduled visits to their studios. These spontaneous non-pressurised discussions provided ample opportunity for comprehensive evaluation and constructive critique of work to challenge students to set and achieve new goals. The RCA also offered a regular schedule of a diverse range of academic lectures by in-house and external artists. Students were encouraged to attend events based their individual areas of interests rather than follow a set curriculum.  Having flourished in CAFA's traditional environment, Zhang Lingrui also thrived in this liberal and student-led environment as he had the opportunity and space to figure out his own unique art concepts and style. He enjoyed the opportunity to meet, learn from and work together with so many other promising young artists from around the world, all in the pursuit of artistic excellence. The RCA provided a solid platform for these young artists to learn how to express themselves through art, transcend the defined societies and cultural norms they came from, and to shine as individuals in a densely crowded industry.
Zhang Lingrui's pursuit of innovative and unconventional artistic practice started during his time at RCA. Zhang was inspired by Clement Greenberg, one of the most prominent 20th century American art critics and revolutionary theorist. Greenberg advocated for formalism, the importance of the visual aspect of art (i.e., the formal elements such as colour, line, brushwork and composition) over the narrative content and themes the art could potentially covey. Greenberg believed that art should be self-expanding and self-reflective, and he appreciated works that could directly resonate with the audience through formal language.
  (Perspective Study -01, 120 x 120 cm Oil on linen  2023 )
Zhang's artistic style has been evolved from reticent introspective contemplation to bold exploration of the vast depth and numerous angles in how the medium of painting itself can be observed by different viewers. His paintings and artistic creations from his time at RCA including his graduation piece, have been showcased in several exhibitions and acquired by multiple international collectors.
Among his recent works was an oil painting titled "Perspective Study", which was recently exhibited at leading contemporary art gallery, Union Pacific Gallery, in London in May 2023.  Zhang's brushstrokes depict the plaid pattern of a crumpled tablecloth on a wooden surface with stunning detail, a striking clash of individual shapes and sharp colours and poised lines to create a visual illusion of a three-dimensional scene. The painting asks the viewer to contemplate their own perspective on a basic, everyday object and leads to a connection of mutual appreciation between the artist and the viewer. Zhang strives for his representational art to have the visual voice and character to form a close and individual connection with the viewer. Zhang Lingrui has gained well-deserved recognition and acclaim as an original artist with explosive potential from art critics and art collectors across the contemporary art scene.
It remains to be seen whether Zhang's use of representational and realistic techniques to showcase his unconventional expression and approach to the realm of human consciousness will appeal to the mainstream art market and lead to a new original art style. However, the signs are very promising given how Zhang Lingrui has exhibited his work across China and Europe to much acclaim. Both European and Asian collectors have purchased Both European and Asian collectors have purchased his most of the works from 2019 to present. Zhang's originality clearly stands him out from the crowds in the art world. His electrifying style and talent could be a key force in helping this industry recover and flourish post pandemic.
    (Perspective Study -02, 120 x 120 cm Oil on linen  2023 )