The SpaceX and Tesla owner has long been outspoken about the dangers posed by artificial intelligence, and earlier this year warned it could even lead to "civilisation destruction".
It comes as countries, including the US and China, backed a UK deal to collaboration the need to manage the potentially "catastrophic" dangers it could pose.
The world's leading AI powers were among 28 nations to agree to the UK's Bletchley Declaration, which stresses the need for countries to work together to harness the technology's potential while keeping people safe.
The deal gets its name from Bletchley Park, home to Britain's Second World War codebreakers, where the two-day summit kicked off on Wednesday.
Mr Musk is among more than 100 major figures from politics and business in attendance, including the likes of OpenAI's Sam Altman, Google DeepMind's Demis Hassabis, and US vice president Kamala Harris.
Professor Michael Barrett, from the University of Cambridge Judge Business School, told Sky News while Mr Musk's star power risked making him "a bit of a sideshow", he has "valuable" expertise to share.
"By Mr Musk coming, the summit gets two birds with one stone: a global perspective at the event and a key stakeholder who needs to be in effective dialogue with other stakeholders on issues of AI safety," he said.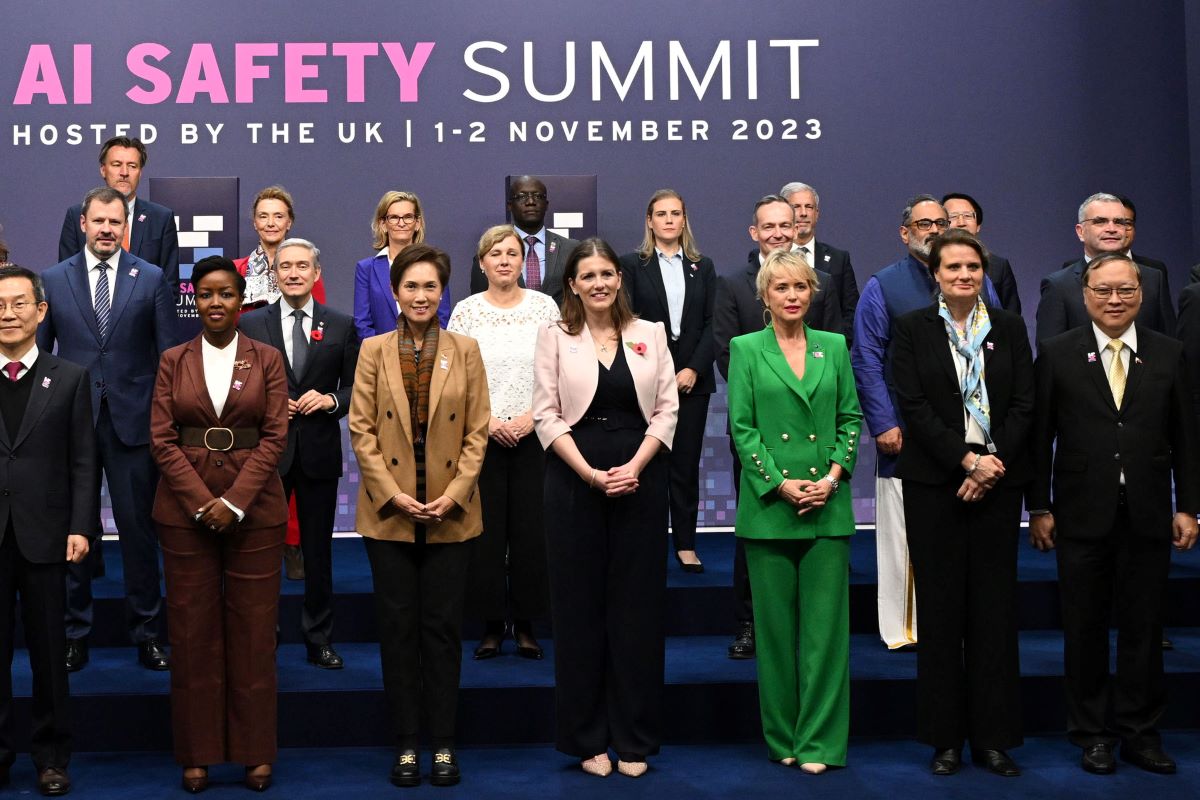 Following the close of play on Thursday, Mr Musk will join Rishi Sunak for a live chat on X (formerly Twitter).
Both men have spoken of similarly dystopian threats posed by AI, such as terrorists developing bioweapons or humanity losing control of the tech altogether.
Mr Musk has been more vocal about regulation, though, telling the US Congress back in September there was "overwhelming consensus" for it.
Mr Sunak on the other hand has expressed caution, saying too much oversight would stifle innovation.
Musk: 'Not clear' if humans can control AI
The world's richest man changed his tune somewhat ahead of the UK safety summit, voicing his opposition to sweeping safeguards unveiled by US President Joe Biden earlier this week.
Prof Barrett said given his apparent displeasure with the White House announcements, Mr Musk may be "hoping to steer the UK government" when it comes to its own approach.
Speaking at the summit, Mr Musk suggested he would prefer a "third-party referee" to regulate the sector.
"It's not clear to me if we can control such a thing [AI]," he told the PA news agency.
"But I think we can aspire to guide it in a direction that's beneficial to humanity."
Critics have said the summit is too focused on hypothetical threats rather than clear and present dangers, with businesses and unions calling for legislation to protect jobs and combat misinformation like deepfakes.