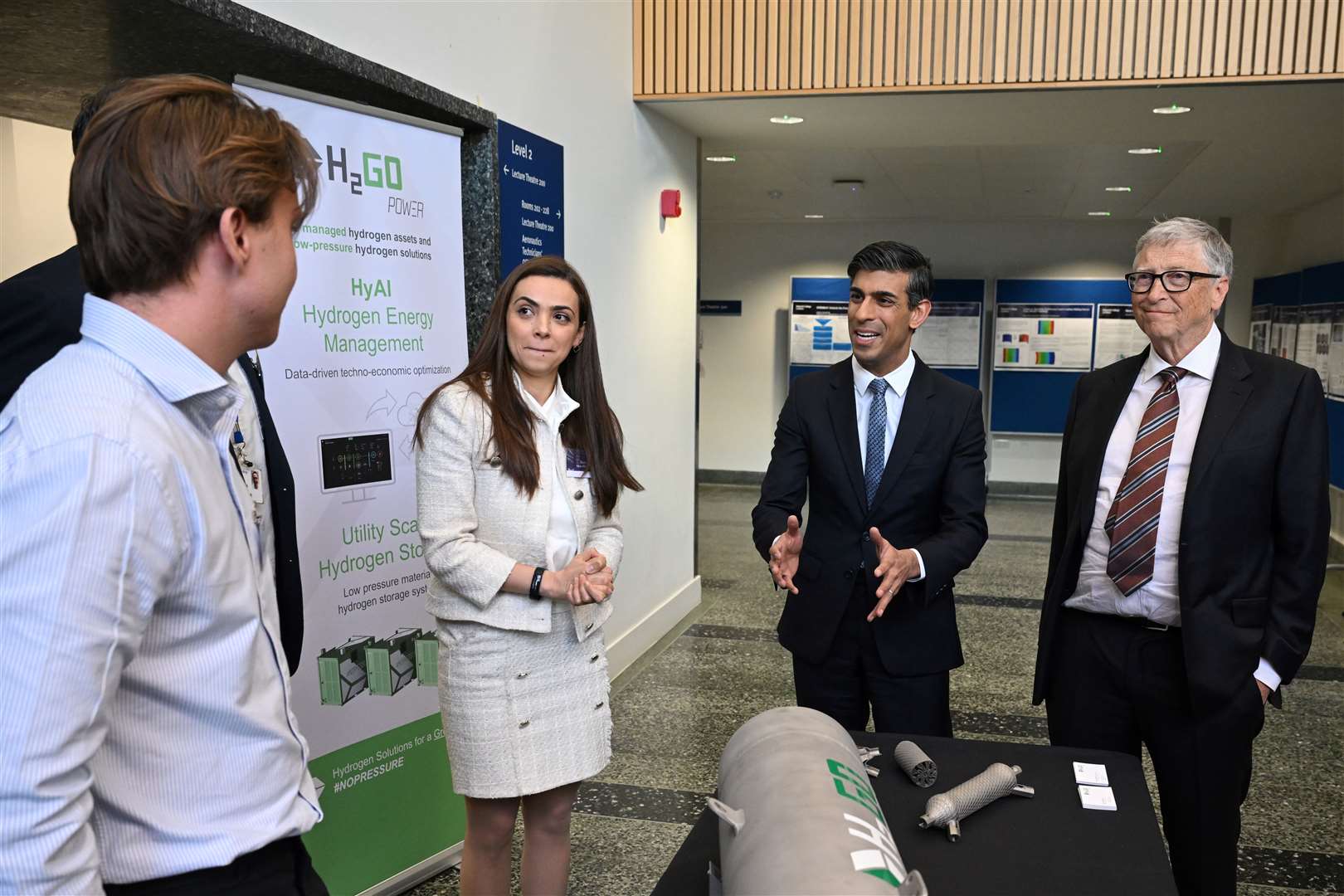 Imperial College hosted Bill Gates and UK Prime Minister Rishi Sunak for the launch of a new initiative to supercharge UK cleantech innovation.
Clean-tech for UK, which brings together a coalition of investors and venture-builders with combined funds of over £4 billion, will accelerate the translation of the UK's scientific research into world-leading cleantech scale-ups.
Imperial College London's cleantech accelerator, Undaunted, is a founding member of the initiative, which will connect the UK's policy-making community with those creating, incubating, investing in and scaling cleantech companies.
UK Prime Minister Rishi Sunak joined Bill Gates – founder of Breakthrough Energy – at Imperial College London on Wednesday 15 February to launch Clean-tech for UK, alongside Imperial's President Hugh Brady and Vice Provost (Research and Enterprise) Professor Mary Ryan.
"With the launch of Cleantech for UK, a new generation of talented British businesses can be confident that they have the backing they need to unlock green solutions to some of the biggest challenges we face.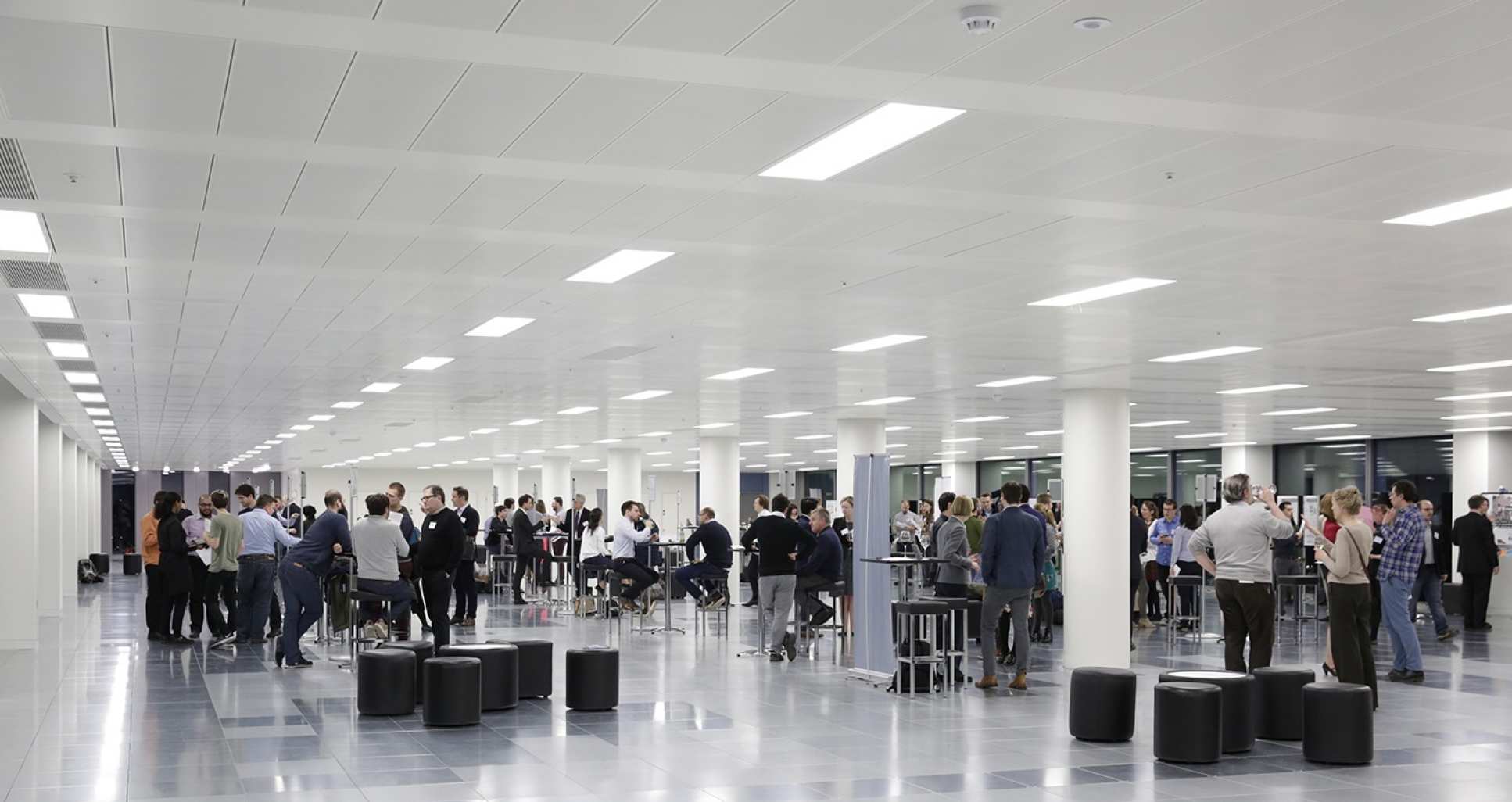 "This shines a light on the strength of UK innovation – and our ability to find new ways of doing things to drive economic, social and environmental progress."
Bill Gates said: "The UK has all the ingredients to become a major player in the global push to build a net-zero emissions future, including world-class research facilities and forward-looking investors. It's great to see cleantech businesses, innovators, and policy makers coming together to advance UK climate leadership."
Professor Hugh Brady, President of Imperial College London, said: "Achieving net-zero will require an enormous step-change in our economy, industry and civic systems. Imperial College London, one of the world's leading universities, has the talent, resources, and influence to help accelerate the world towards this goal. We are fueling a new generation of dynamic, clean-tech businesses and helping them to scale and thrive. We are pleased to welcome Bill Gates and Prime Minister Rishi Sunak to Imperial College London to launch Clean-tech for UK, and look forward to working with our partners to unleash this kind of innovation across the UK."
Professor Mary Ryan, Vice Provost (Research and Enterprise) said: "We know that we are in the centre of triple planetary crises – climate change, pollution, and biodiversity loss. Developing and deploying new technologies to build a more sustainable, resilient and equitable future is urgent. This initiative will bring together key partners to provide the systems-thinking, solutions-focus and resources to unlock the potential of the UK's innovators. Imperial is ideally placed to drive this revolution."
This follows the launch of a collaboration between Imperial College London and The Royal Institution (Ri), led by Imperial which aims to catalyse innovation across business, industry and policy and help to deliver a zero carbon and climate resilient future.
Alyssa Gilbert, Director of Undaunted and Director of Innovation at the Grantham Institute, said: "Clean-tech for UK embodies what Undaunted is all about: bringing people and perspectives together to tackle climate change. There are fantastic climate innovation ideas out there, that will help us confront the climate crisis, and we must work together to ensure they can flourish."
The Cleantech for UK launch event included a showcase of three leading UK cleantech scale-ups.
Econic, an Imperial College London startup, are developing catalyst technologies that enable the use of captured CO2 to make low-cost, sustainable plastics. The company was founded by Professor Charlotte Williams and Dr Michael Kember from Imperial College London and participated in Imperial's Climate accelerator in 2012.
H2GO Power, based at Imperial College London's innovation campus in White City, are developing disruptive smart technologies to change hydrogen is stored and managed. The company was co-fouded by Dr Enass Abo-Hamed, former Royal Academy of Engineering Enterprise Fellow at Imperial, and was supported by Imperial's Climate-KIC accelerator programme in 2017.
Crop Intellect are developing innovative solutions to major agricultural challenges. Their flagship technology, R-Leaf, aims to turn air pollution into plant food at the field scale, improving crop yield whilst reducing greenhouse gas emissions. The company are working with Dr Andreas Kafizas from Imperial's Department of Chemistry.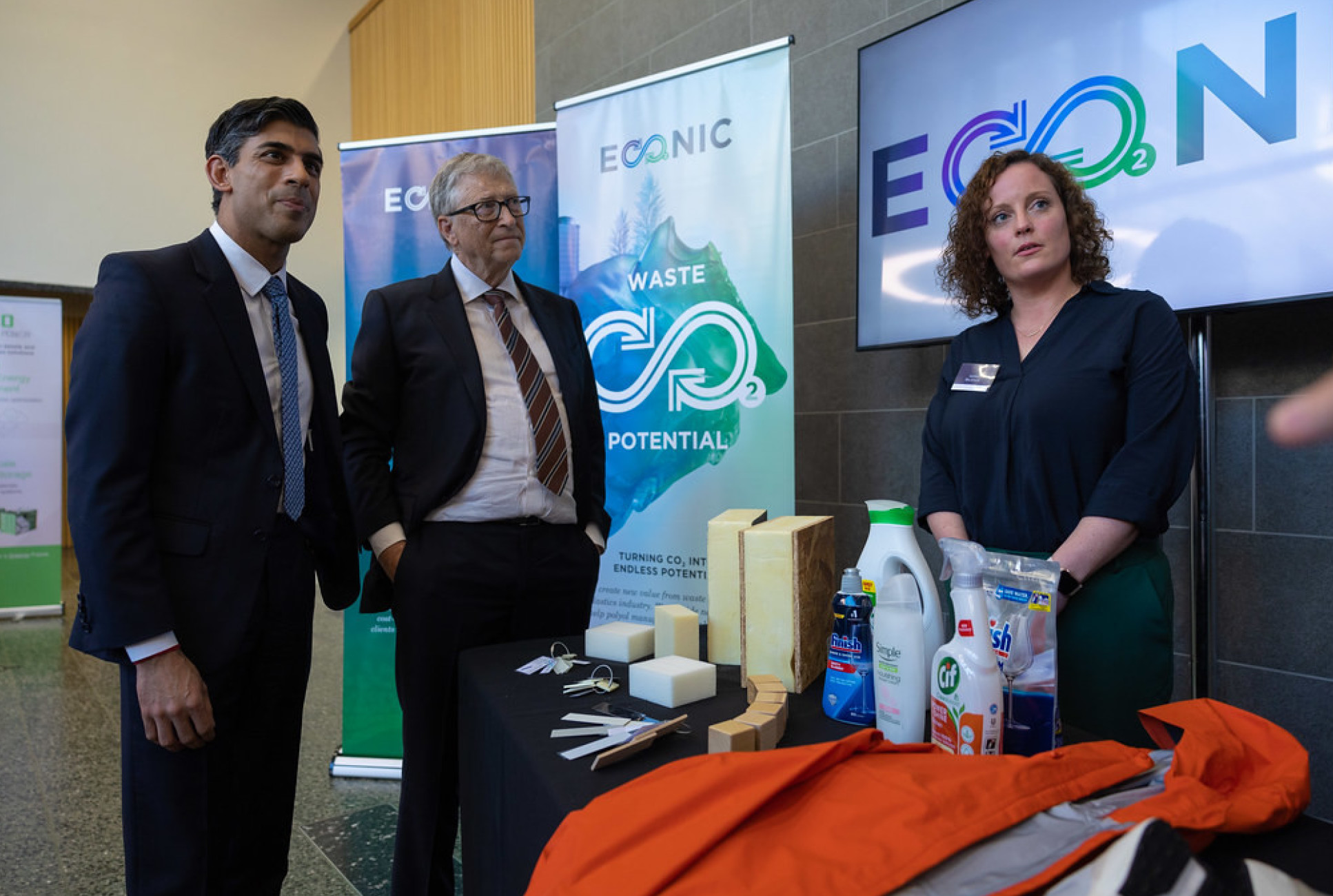 Clean-tech for UK is powered by Cleantech Group and supported by Breakthrough Energy, an organisation founded by Bill Gates to accelerate the clean energy transition, with initiatives that fund, develop, commercialize, and scale the technologies needed to build a net-zero economy.
Sources from Imperial news and online coverage