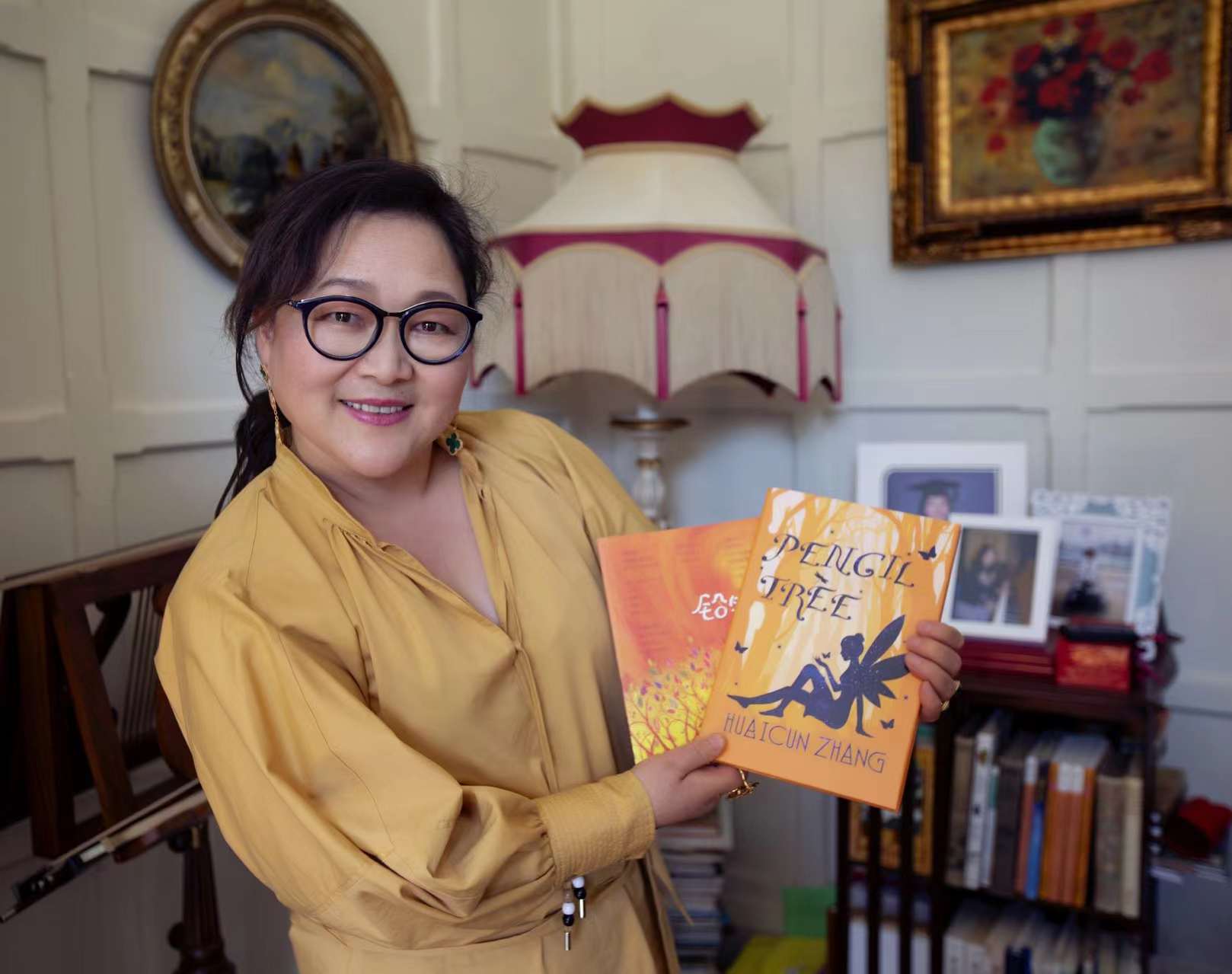 Pencil Tree is a collection of short poems for children (and all adults young at heart). It is comprised of charming and merry poems that showcase the bold imagination and joyful heart of the well-known British Chinese artist and writer Huaicun Zhang. Zhang's graceful writing style creates a delightful world that will captivate the minds and inspire the hearts of children and adults alike when they open the book. It is a book that one could easily devour in one go on a rainy afternoon. Alternatively, each poem can be individually savoured as a moment of respite during hectic and stressful days.
Nearly a year after the publication of the English edition of Pencil Tree in the UK, I sat down with Huaicun Zhang to discuss why this book of Chinese poetry resonates with English readers and what lessons they learn.
Zhang This anthology contains more than 80 poems, spanning over 144 pages. I focused on celebrating the beauty and might of the four seasons, along with the innocence and simplicity of childhood. Reflection of nostalgic memories from my childhood in northwest China is a key theme throughout. I tried to capture the different voices of a child, a young woman and a mother in alternating poems in my book as I want families to read and enjoy these poems together.
Sun Yes, I think your perspective on key childhood items and experiences ensures your voice resonates with readers around the world. For example, you remind us that the humble schoolbag does not just carry books and pencils but also the dreams and hopes of a child at the beginning of a journey. Your vision of the school bag is unique and very moving.
 I pack the breeze and the sea into the schoolbag. I pack the flowers and the morning sunlight into the schoolbag. I pack the voices of teachers and laughter of classmates into the schoolbag. I pack love from mum and dream of my own into the schoolbag. (Page 55)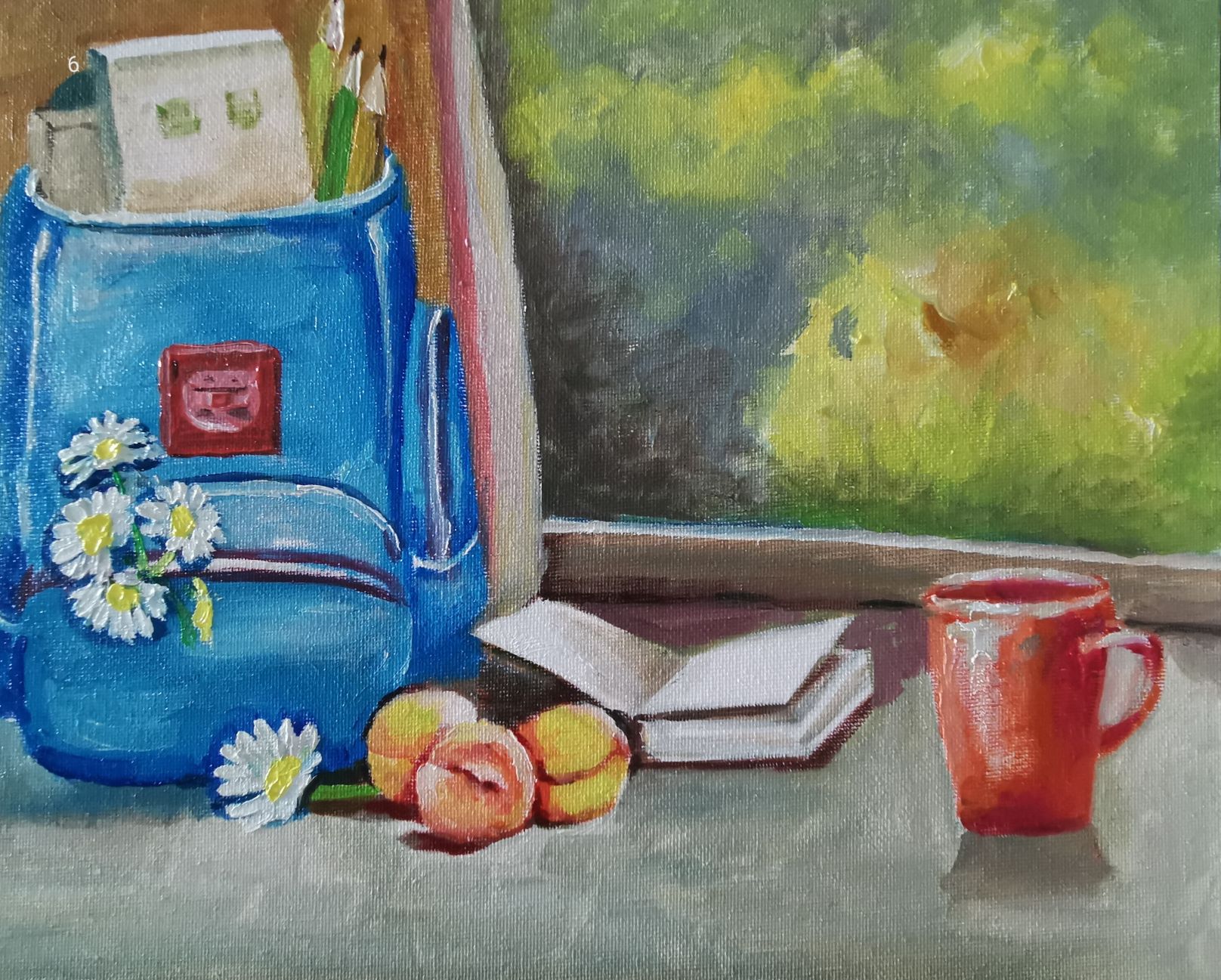 (Painting by Zhang Huaicun)
Zhang Thanks, I think the schoolbag is a powerful metaphor for the thoughts, feelings and dreams a young child has. We need to cherish and protect these beautiful young souls as they evolve into the bright stars of our future. I've tried to keep my words clear and concise so that the messages are simple to understand. I hope they will be thought-provoking and inspiring for young children and their parents. We cannot let our children be demoralised by life's challenges, instead we must inspire them to stay true to themselves, faithful to their families and respectful of nature.
While the sunlight is smiling, we start to dream innocently, whilst wake up the stars and the flowers, make ourselves even more sincere and generous. We are chasing up the sunlight, and lighting up our hope. (Page 47)
Sun Your writing style is very easy to read, so readers of all ages can imagine the vivid world you have created. The way you incorporate all five human senses in your writing encourages the reader to appreciate nature with wide eyes, curious minds and open hearts. Why did you name this book Pencil Tree?  Was there a specific source of inspiration?
Zhang:  There is a story behind the title of every one of my books. I'm very proud that the title is always chosen by a member of my family as they are my first reader. Pencil Tree was inspired by and dedicated to my daughter, Xiaoxian. I remember every syllable she babbled to every word she uttered for the first time when she was little. To me, every word she said was poetry and I wrote them all down.
Pencil Trees were everywhere and colourful. They were dancing happily on the drawing paper. During the jumping and dancing, a flower came out, nodding at me. The grass appeared, waving its hand to me. So did the stars, blinking at me. They all spoke to me loudly: we are drawn by the coloured pencils. (Page 11)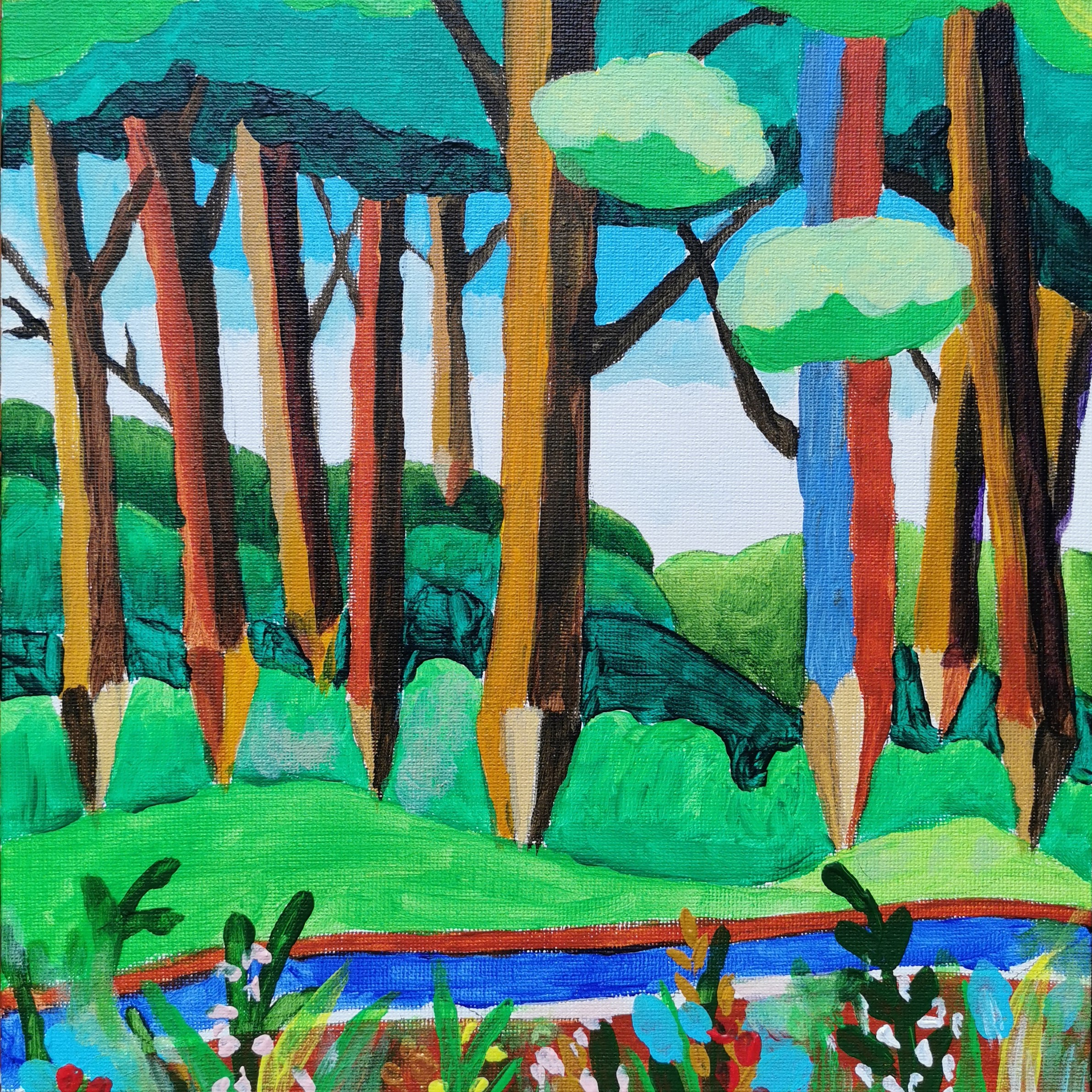 (Painting by Zhang Huaicun)
Back in 2000 when Xiaoxian was only 4 years old, she loved drawing and doodling. I asked her to draw some illustrations to accompany the poems in Pencil Tree.  Whilst we worked together, she asked lots of questions, e.g. How was a pencil made? When I explained that a pencil was made from wood and wood was cut from a tree. Xiaoxian thought wow, how many trees were cut to make pencils? What a pity for the trees. Can we plant a tree to grow pencils without needing to cut the wood? It should be a Pencil Tree. It was our first published collaboration as mother and daughter.
Sun Before you became a writer, artist, and mother, you were a teacher for nearly 20 years. You have taught all ages from primary school to university. These roles have all influenced your writing. You draw on your wisdom and reflection from your previous nurturing and teaching experiences and combine them with your compassion and elegant artistry into poetry.
Your well-known artistic flair translates beautifully from brush strokes into words. Your narration of the change in seasons is powerful and enchanting. When I read your words, I feel like I can step inside the poem and become part of it.
It is the thunder that wakes up the sleeping worms. It is the drizzle that asks the lovely flowers to dance…They are all talking about Fairy tales in spring. (Page 17)
Zhang   Thank you for your generous words. I just try to capture the simple innocent thoughts and playful whims of a child.
The net in Grandpa's hand is too fine and too dense, too big and too small, too short and too long to fish up the dreams. The world is full of laughter……As well as fantastic hopes. (Page 15)
By doing so, I hope to remind all adult readers to appreciate the small things that they may miss out on because their eyes are shaded by fatigue, stress and cynicism. I want to encourages people to take a moment to re-discover joy and vitality by looking at nature and life through the wide-open and curious eyes of a child. I want them to pause and appreciate the beauty of world we are so fortunate to inhabit.
Sunlight is a kind of language, a language that can be listened to. In the morning, the sunlight comes out, talking to the green leaves in a happy and clear tone. Whilst the flowers in the field are listening carefully. Sunlight therefore greets to the flowers kindly. In the clear sky walks the happy sunlight. To whom, on the ground, we are joyfully listening. (Page 64)
I try my best to use descriptive imagery to express the core concepts of humanity and compel the reader to reflect on what is important to them.
Friendship is a green fruit, whose refuge is the wind as soon as they gaze at each other, the green fruit turns ripened. The friendship is a deep spring. Please do not drink up. Just sip when feeling sad to forget all the worries in the world. (Page 109)
Sun Indeed, we are currently living in a world full of uncertainty, crises, and conflict. The COVID-19 pandemic made us appreciate the things we used to take for granted like personal freedom, health, family, and friends. The energy crisis is forcing us to make difficult sacrifices to afford the cost of living. Wars around the globe have led to increased human suffering in the 21st century and global climate change is an ever-increasing challenge to humankind.
Zhang Pencil Tree not only provides a retreat for families to escape from current pressures, but it also provides hope and encouragement.  Our children are our future and teaching them is a two-way process as they have as much to teach us as we have them.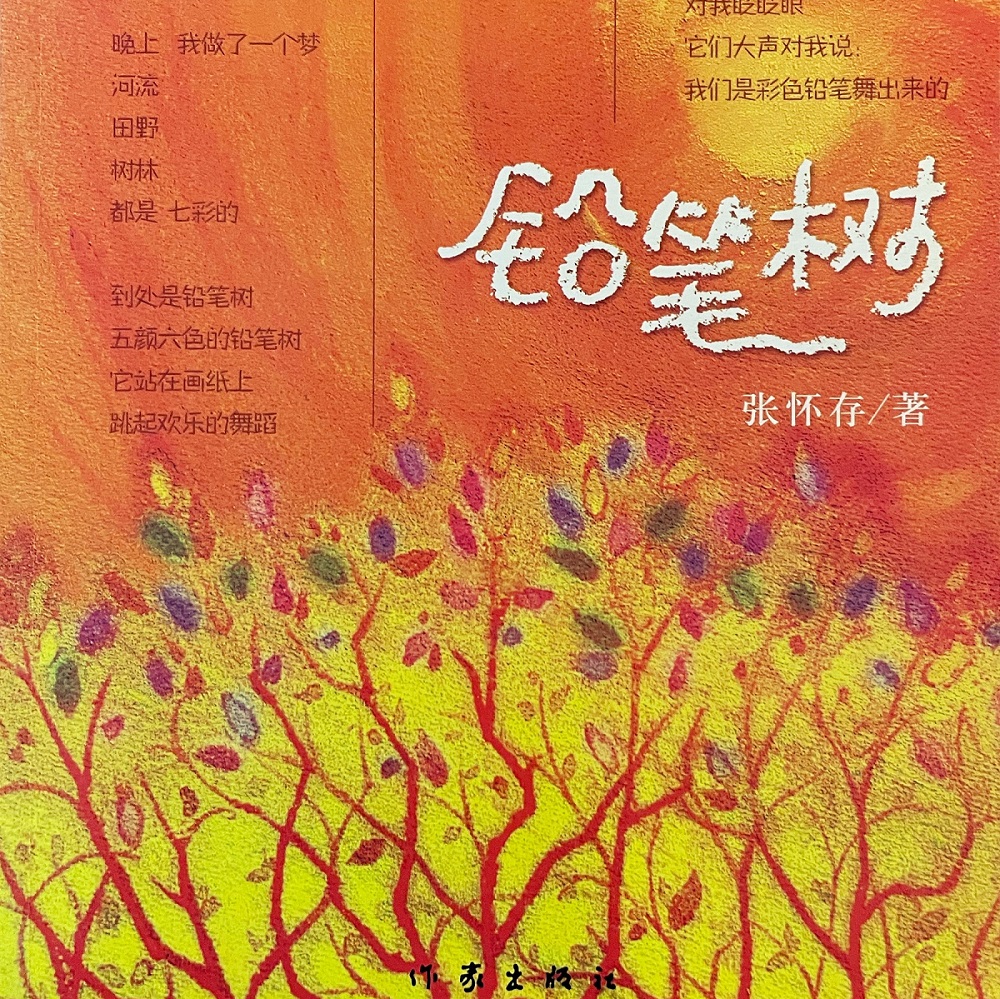 Editor's postscript
When Pencil Tree was first published in China in 2004, it quickly sold over 100,000 copies. It became a bestseller with its witty and imaginative verses and exquisite illustrations. It received hundreds of glowing reviews from the Chinese media. In 2007, Pencil Tree was unanimously shortlisted for the selection of the China Children's Literature Award. It is considered a modern Chinese children's literature classic. British publishing house Paths International Ltd published this treasured anthology of poems in March 2022. All the poems were translated by Huaicun Zhang herself and the English edition features many of her original illustrations. British children and their families have another great poet to love and be inspired by. Despite being written nearly two decades ago, its ideas and themes remain contemporary and still resonate with children and adults alike. In the words of the current Waterstones Children's Laureate, British poet and children's writer Joseph Coelho: "Poetry is powerful…it goes beyond mere words, poetry translates the soul."