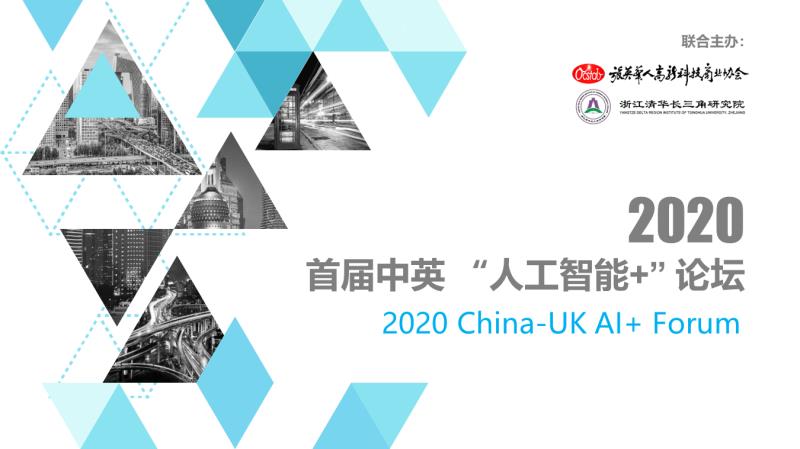 The Overseas Chinese Society for Technology & Business in UK (OCSTAB) and Yangtze Delta Region Institute of  Tsinghua University, Zhejiang successfully held online China-UK 2020 AI Forum last week.
With the theme of trends, opportunities and challenges in the development of artificial intelligence in China and the UK, the forum invited renowned experts and scholars from China and the UK to share their views on AI+ in the fields of healthcare, precision agriculture, intelligent manufacturing, financial investment, technology innovation, national enterprise strategy and other industries.
Professor Guo Yike, member of the European Academy of Sciences and the British Royal Academy of Engineering, and Vice President of Hong Kong Baptist University, delivered the keynote speech on the topic of "Artificial Intelligence and Medicine". Professor Guo made an in-depth exposition on the application of artificial intelligence in medicine development and disease diagnosis. He presented his team's latest achievements in NLP-powered medical records labeling and generation, as well as cloud-based real-time surgical robots. Professor Meihong Wang of Sheffield University introduced an exciting Euro-Asian carbon capture and utilization project and explained how his team was planning to use artificial intelligence in the project. Professor Xiangdong Yang, vice president of Yangtze Delta Region Institute and associate professor of Tsinghua University, talked about how his team transformed a traditional furniture factory with AI and put forward the concept of "demand-led innovation" to encourage the use of AI to drive innovation across industries.
Mr Sunan Jiang, the Minister Counsellor for Science and Technology, the Chinese Embassy in the UK, said in his speech that China and the UK worked together to release a scientific and technological innovation strategy in 2017 and established a long-term collaboration framework. Jiang also pointed out that both nations put AI as the engine of high-tech development, and complement each other well, and have great potential for further cooperation
The President of OCSTAB Dr James Zhang said that AI has brought many opportunities and challenges to us all and that we should enhance our resilience to adapt to any changes in the future. Dr Weiheng Liao, who chaired the 2020 China-UK AI Forum, expressed the hope that this forum and further technical exchanges in the future would facilitate the cooperation between China and Britain in the sector of AI and beyond.