The US and China released on Wednesday 10th November, that Joint Glasgow Declaration on Enhancing Climate Action in the 2020s here at the ongoing 26th session of the Conference of the Parties (COP26) to the UN Framework Convention on Climate Change. The two nations saying "there is more agreement between China and the US than divergence". Times Publications correspondent May Zhao reported
The world's biggest polluters have committed to "enhanced climate actions that raise ambition" in the "critical decade of the 2020s".
US climate envoy John Kerry told reporters at the COP26 climate conference in Glasgow that there was not just an effort but an "imperative to co-operate".
Speaking through an interpreter, China's top negotiator Xie Zhenhua said there was "more agreement between China and the US than divergence". China also commits to "phase down coal consumption" during the 15th Five Year Plan [which covers 2026-2030] and make best efforts to accelerate this work.
( Xie Zhenhua China's top negotiator) 
The joint statement, agreed they are committed to its effective implementation and appreciate the intensive work that has taken place to date and the value of continued discussion.  They also committed to tackling it through their respective accelerated actions in the critical decade of the 2020s, as well as through cooperation in multilateral processes, including the UNFCCC process, to avoid catastrophic impacts.
The two states also recall the Agreement's aim in accordance with Article 2 to hold the global average temperature increase to well below 2 degrees C and to pursue efforts to limit it to 1.5 degrees C.
Two side nevertheless recognize that there remains a significant gap between such efforts, including their aggregate effect, and those that need to be taken to achieve the goals of the Paris Agreement. They declare their intention to work individually, jointly, and with other countries during this decisive decade, in accordance with different national circumstances, to strengthen and accelerate climate action and cooperation aimed at closing the gap, including accelerating the green and low-carbon transition and climate technology innovation.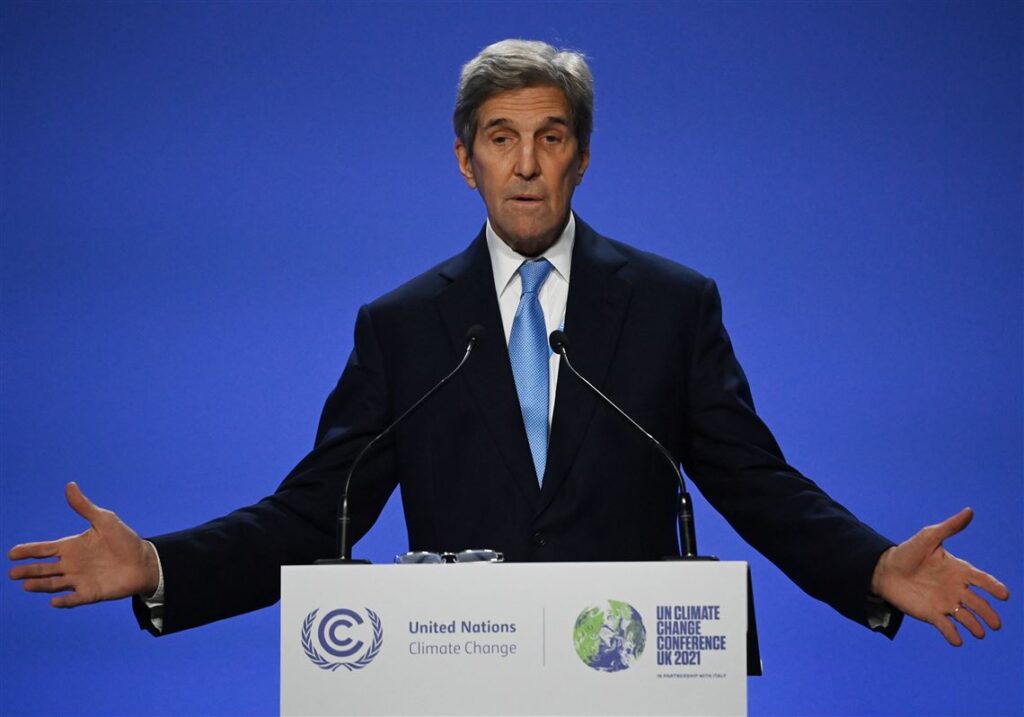 (John Kerry, US climate envoy)
The two countries intend to cooperate on regulatory frameworks and environmental standards related to reducing emissions of greenhouse gases in the 2020s, maximizing the societal benefits of the clean energy transition, key areas related to the circular economy, such as green design and renewable resource utilization, and deployment and application of technology such as CCUS and direct air capture.
Both two sides intend to establish a "Working Group on Enhancing Climate Action in the 2020s," which will meet regularly to address the climate crisis and advance the multilateral process, focusing on enhancing concrete actions in this decade. This may include, inter alia, continued policy and technical exchanges, identification of programs and projects in areas of mutual interest, meetings of governmental and non-governmental experts, facilitating participation by local governments, enterprises, think tanks, academics, and other experts, exchanging updates on their respective national efforts, considering the need for additional efforts, and reviewing the implementation of the Joint Statement and this Joint Declaration.