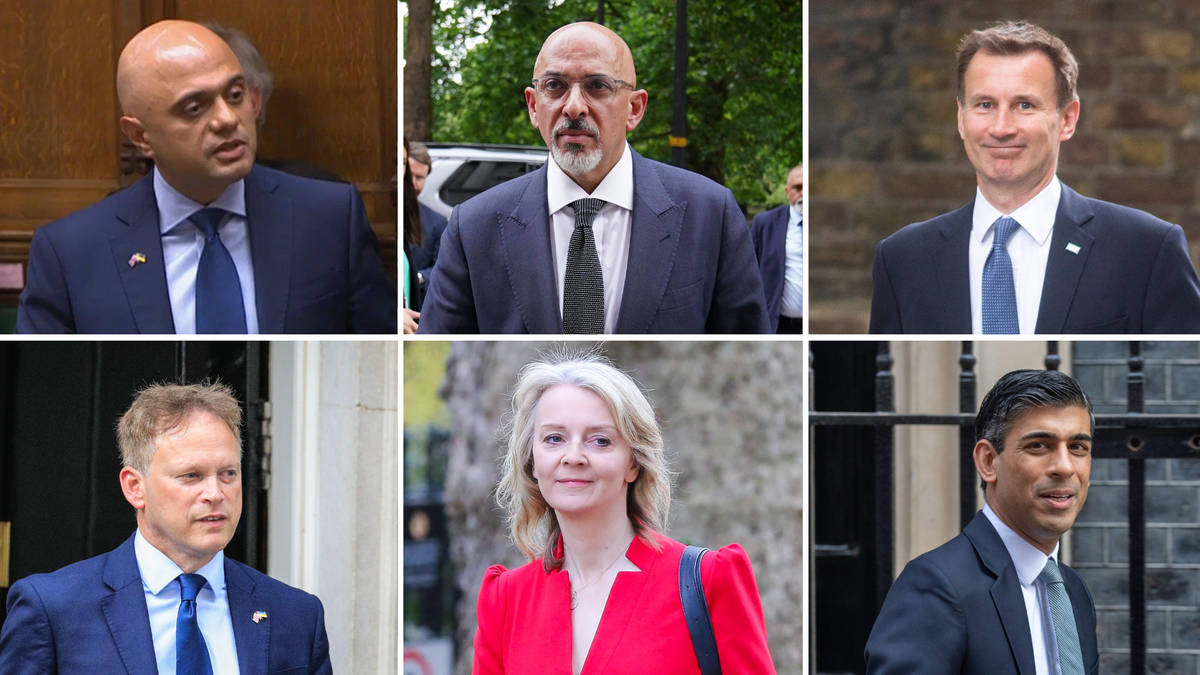 Conservative leadership hopefuls have been setting out competing plans to cut taxes, as the race to replace Boris Johnson heats up.
Many of the declared candidates have already promised to cut taxes on individuals, businesses, or both.
Former health secretaries Sajid Javid and Jeremy Hunt have pledged to cut corporation tax on different timescales.
Mr Javid is also among those wanting to scrap April's National Insurance rise.
Nine Tory MPs have so far said they intend to run in the contest to replace Mr Johnson, with a new leader expected by September.
Trade Minister Penny Mordaunt has become the latest to join the campaign, promising a "different approach to leadership".
The field of contenders has widened significantly in recent days, with former chancellor Rishi Sunak, his successor Nadhim Zahawi, and Transport Secretary Grant Shapps launching campaigns.
They join Attorney General Suella Braverman, former equalities minister Kemi Badenoch and backbencher Tom Tugendhat in the contest. Foreign Secretary Liz Truss is expected to launch her campaign in the next 24 hours.
Mr Javid has promised wide-ranging tax cuts, including cancelling next year's scheduled hike in corporation tax from 19% to 25%, and instead gradually reduce it by 1p a year to 15%.
He also wants to bring forward next year's planned 1p cut to income tax and reverse April's National Insurance hike, introduced when he was health secretary to fund the NHS and social care.
Speaking on the BBC's Sunday Morning programme, he said his tax cuts would cost £39bn a year, but argued they were needed to boost growth and not introducing them was a "much greater risk".
Pressed on how he would fund them, he said he would be setting out details in the coming days, but pointed to official projections of a £30bn "fiscal headroom" against spending targets by 2024.
Paul Johnson, director of the Institute for Fiscal Studies think tank, said the £30bn figure was calculated at a time when inflation predictions were lower.
Writing on Twitter, he added that using the headroom to fund tax cuts would "almost certainly" require public-sector pay cuts or more borrowing.
"Everyone would like lower taxes. But [we] need to be clear about consequences," he added.
Mr Hunt, a health secretary under Theresa May and David Cameron, has set out a rival plan to reduce corporation tax to 15% in the Budget this autumn.
He says that, if elected, he would also freeze business rates – a tax on commercial property – for the poorest areas for five years. He has, however, said any cuts to income tax should depend on growth.
Also speaking to the Sunday Morning programme, he said his plan for "smart tax cuts" would grow the economy, and denied that they would push inflation even higher.
He said he had been careful not to propose a plan to stoke inflation, describing it as the "main challenge".
He also revealed that if he becomes leader he would make Tatton MP Esther McVey – who founded the "blue collar" group aiming to target working-class voters – his deputy prime minister.
Mr Hunt and Mr Javid are not the only two contenders to announce tax cuts – Mr Zahawi has also said he wants to cut taxes for "individuals, families and businesses," and Mr Shapps has promised to cut personal tax for the poorest.
Mr Shapps told Sophy Ridge on Sky News he would stop next year's corporation tax rise, and the 1p cut to income tax "should happen now".
Speaking to the same programme, Tonbridge and Malling MP Tom Tugendhat said he would reverse the National Insurance rise and reduce "crippling" fuel taxes.
The various tax-cutting plans mark a contrast with ex-chancellor Mr Sunak, who has played down the prospect of tax cuts before public finances improve.
He launched his campaign on Friday with a slickly-produced video, but has not yet given any interviews about his economic policies.
Resource: From BBC News