The 15th World Chinese Entrepreneurs Convention held its opening ceremony at the London ExCel International Convention and Exhibition Center yesterday.
More 2500 Chinese business delegates and over 500 special guests from 60 countries across the world gathered here to discuss the development of Chinese international trade with the UK and European markets.
It is a first the World Chinese Entrepreneurs Convention (WCEC) coming into Europe and landed in the UK. The key topic of the conference was "New World, New Opportunities"
This WCEC aims to strengthening the trade relationship between Chinese business with the UK and European markets under new world strategic situation.
Sir John Peace, Co-Chair of WECE Steering Committee first made a greeting speech at opening ceremony. He said the 15th World Chinese Entrepreneurs Convention isn't just an event, it's a great celebration for the UK China's relationship of the golden era. John mentioned the UK-China trade is growing.  20 years ago China was be ranked 15th as the UK trading partners. Today, China has jumped up at one of the top partners in the UK, accounting for 7.5% of the UK trade. He hopes the 15th WCEC will bring more opportunities for UK China's business.
The Duke of York Prince Andrew attended and addressed welcoming speech at opening ceremony. Prince Andrew said he is so proud of himself as he is an Old Friend of China, he has seen the development of China UK relationship through turbulence and now in the golden era since President Xi's Historic State Visited in 2015. Prince added, he has kept in regular touch with President Xi Jinping and he received a message from President Xi recently in connection with today's event: "Your commitment to the development of China-UK relations, in particular your contribution to enhancing China-UK cooperation on science, technology and innovation, and your personal role in the preparation for the 15th World Chinese Entrepreneurs Convention, is highly appreciated." Message from President Xi
Prince Andrew emphasized, this WCEC has come here to call a new generation of entrepreneurs to action; action based on the spirit of harmony, cooperation, openness, and innovation all spirits of which we can aspire to emulate. I propose we call this the "London Spirit!" I hope this London Spirit will encourage us to work together more closely and harmoniously and carry on to future Conventions. Prince said and he passed on Queen's very best greeting message to all the guests at convention for ended his speech.
Chinese Ambassador Liu Xiaoming remarked at convention, the world has entering a century of unchanging situation, the global Chinese business should not only to catch up new opportunities, and also should be able to found new world structures. Currently protectionism and unilateralism continue to spread, significantly raised uncertainty of the world situation. The world economy urgently needs to implant new vitality. Chinese entrepreneurs should seize all the opportunities for the reform.
Ambassador Liu introduced that China has released the "China listed Special Management Measures for Foreign Investment Access" 2019 edition this year, included initiatives such as Shanghai Free Trade Zone and Hainan Free Trade Port. Liu hopes the majority of Chinese business should continue to exert of knowing language and the market advantage, participating together in the "Belt and Road" cooperation and expanding Chinese opportunities to sharing the bonus. He also proposed that Chinese business should grab new opportunities in the golden age and create a new pattern of Sino-British collaboration.
Former Secretary of State for Foreign and Commonwealth Affairs, Lord of Hague Richmond said to convention that UK and China need to face together the trend of globalization reversal.
From perspective of geographical, China's diverse and complex geographical environment has created a national spirit with Chinese characteristics. The same was as part of Europe, the UK's commercial trade spirit is closely related to its location of specific time zone.
Hague was warmly welcoming investment and cooperation from China. He wishes UK could solve its own problem of Brexit and to continue to attracting foreign expert talents and business investment, with providing them superior of legal, language, science and finance advantage environment.
There are 21 exhibitors from China and the UK participated on the theme of "Best of China" and "Best of Britain"shows during this WCEC event. The exhibitors included multinational corporations, state institutions, local Chinese special enterprises, fashion industry and well-know private companies in China and Britain.
The convention has last for three days and it will be closing tonight.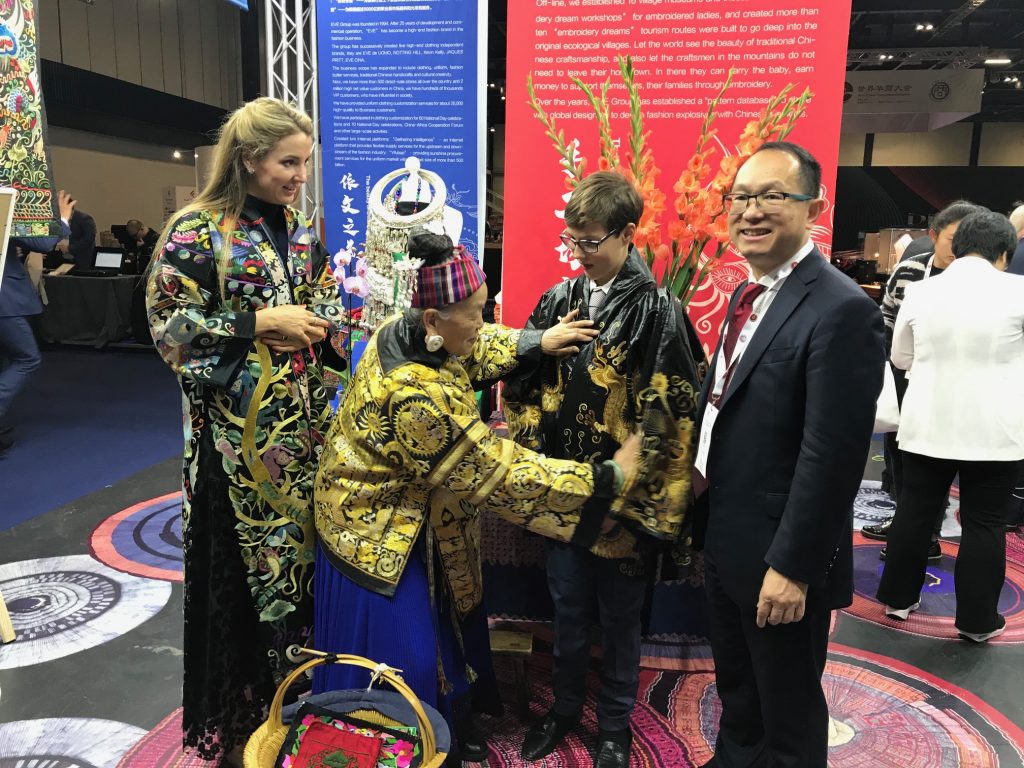 Editor: Judy Smith