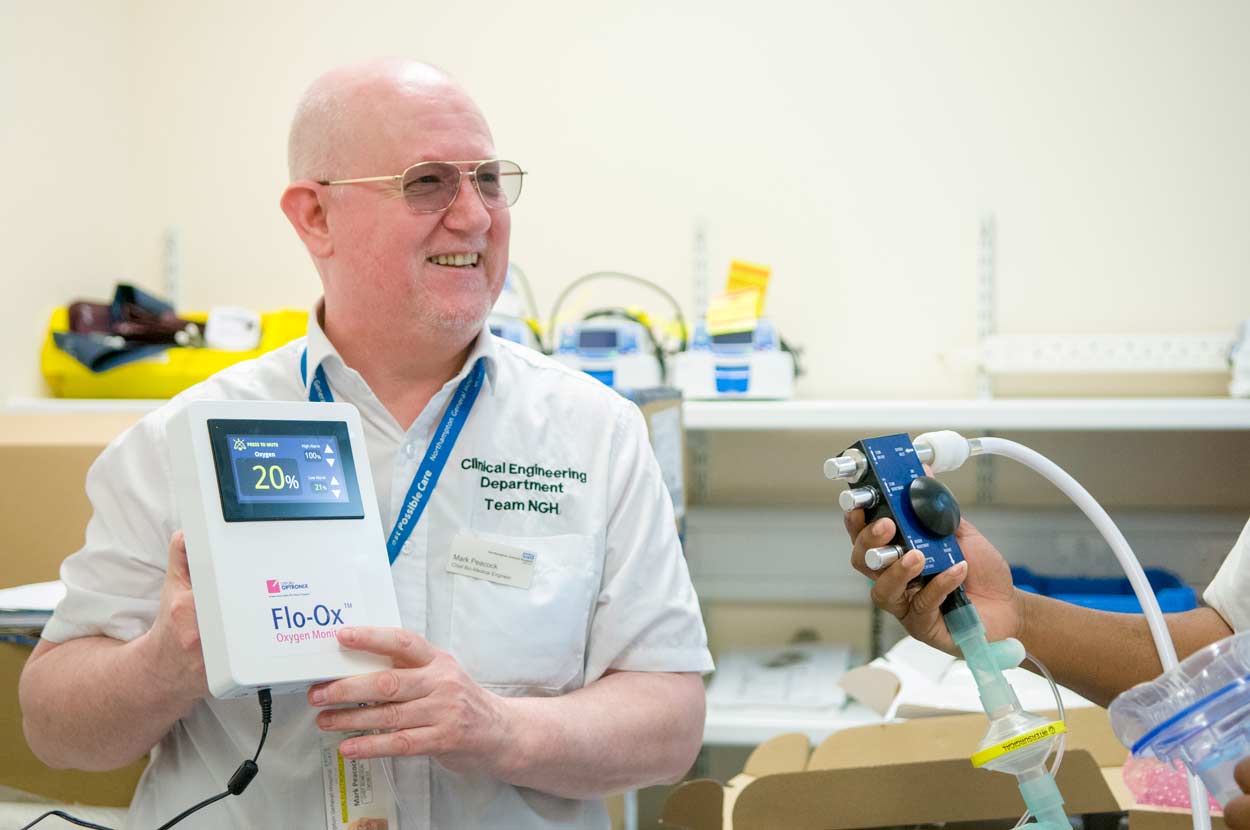 CLINICIANS at University College Hospital and engineers at University College London have designed a new breathing aid that has been approved for NHS use. By Jian Ping Sun
The Continuous Positive Airway Pressure (CPAP) device helps coronavirus patients with serious lung infections breathe more easily without the need for oxygen ventilators that are in short supply.
Designed by the University College London and Mercedes-AMG High Performance Powertrains (HPP), the UCL- Ventura breathing aids were made just a few miles from the hospital at the Mercedes-Benz Technology Centre in Brixworth.
Northampton General Hospital have taken delivery of new Continuous Positive Airway Pressure (CPAP) devices recently, to be used in the fight against COVID-19.
The devices work by supporting patients to receive a gentle, steady flow of oxygen through their nose and mouth while wearing a mask. This treatment reduces the effort it takes to breathe in, as the pressure from the oxygen supply helps the lungs to stay open. By having these CPAP devices the hospital can provide less invasive treatment for patients compared to a traditional ventilator.
Matthew Metcalfe, Medical Director at Northampton General Hospital, described how these new devices will support patients "We are excited to have received the first delivery of the continuous positive airway pressure (CPAP) devices into the hospital."
"These new devices will help patients with covid-19 who need assistance to breathe more easily. The small device works with an oxygen mask to make sure the patient has enough oxygen going into their lungs. Using these CPAP devices means that we don't always need to give more invasive treatment to patients and use a full ventilator machine. We will be using these new CPAP machines to treat our covid-19 patients as part of cutting edge trials designed to improve care.
"It's fantastic to have the support of local businesses and we would like to thank the teams from the University College London, Mercedes-AMG HPP and NHS England for producing these machines so quickly for us.
"Thanks to the hard work of our supplies, stores, medical electronics and clinical teams, we expect to be using them for patients in the next two days".
UCLH received 100 'breakthrough' breathing devices that reduces need for ventilators last month.  The critical care consultant Professor Mervyn Singer said: "These devices will help to save lives by ensuring that ventilators, a limited resource, are used only for the most severely ill and it will 'save lives'.
"While they will be tested at UCLH first, we hope they will make a real difference to hospitals across the UK by reducing demand on intensive care staff and beds, as well as helping patients recover without the need for more invasive ventilation." Professor Singer added.
Editor: Jimmy Michael