Another 684 people have died in the UK after contracting coronavirus – bringing the total number of deaths to 3,605.
The number of deaths, tallied in the 24 hours up to 5pm on Thursday, marks the largest increase so far, with the previous day recording 569 people.
The first of the government's emergency field hospitals to treat coronavirus patients has opened in east London's ExCel centre.
The temporary NHS Nightingale Hospital is able to hold as many as 4,000 patients and is the first of several such facilities planned across the UK.
The Department of Health said that as of 17:00 BST on 2 April, the total number of deaths is now 3,605, up from 2,921. There are 38,168 confirmed cases.
In Scotland, the number of deaths has risen by 46, while in Wales a further 24 people died. In NI, the number of people who died with coronavirus has risen by 12.
Meanwhile, Prime Minister Boris Johnson, who announced he had contracted the virus last Friday, says he will carry on self-isolating after continuing to display mild symptoms of the virus including a high temperature.
The ExCel exhibition space – usually used for large events such as Crufts and Comic Con – was transformed into a hospital in just nine days.
It is the first of several Nightingale Hospitals planned in England, with the latest announcement that two will be built at the University of the West of England in Bristol and the Harrogate Convention Centre.
Others are due to be set up at Manchester's Central Complex as well as Birmingham's National Exhibition Centre, which will open to patients on 12 April.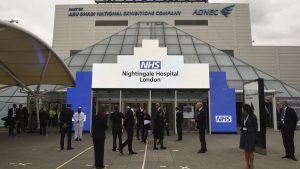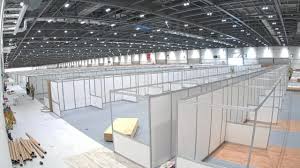 The peak of the UK's coronavirus outbreak – with as many as 1,000 deaths a day leading up to it – may come on Easter Sunday, Health Secretary Matt Hancock has suggested.
At the launch of the new makeshift NHS Nightingale Hospital in east London, Mr Hancock told Sky News it was "perfectly possible" the peak of the COVID-19 crisis in this country could occur around mid of April.
It has been reported there could be 1,000 deaths every 24 hours until the coronavirus peak is reached in little more than a week's time.
Asked about those reports, Mr Hancock told Sky News on Friday: "I defer to the scientists on the predictions that they make.
Editor: Judy Smith         Resources from Sky News, BBC Breaking News