China National Tourist Office London (CNTO London) has launched an online programme as a theme of 'All Under One Moon 2021'last Friday. The three-month virtual series kicks off with China's Mid-Autumn Festival, a traditional lunar calendar event that celebrates the harvest moon, and reminds people to cherish loved ones near and far.
The program of "All Under One Moon" will through the five platforms to build a resonant picture of China, its culture, and its connections with the wider world through exemplary China-UK projects in the cultural and tourism industry.
Festival China: On September 21 it's a traditional Mid-Autumn Festival. the All Under One Moon campaign will premiere a diverse and delightful range of live talks and digital resources from the Ministry of Culture and Tourism of China across social media. Traditional solar terms, folklore, gourmet micro-classes, family-friendly mooncake making tutorials, cultural tours, Mid-Autumn Festival concerts, online exhibitions and more will feature all communicating Chinese values of family and communities
Creative China: CNTO London is delighted to collaborate with the National Base for International Cultural Trade (Shanghai) to participate in the 2021 London Craft Week, and hold the "Amazing China" vivid video exhibition on intangible cultural heritage, showcasing Chinese crafts and craftspeople in embroidery, ceramics, lacquerware, weaving, sculpture, and more.
UK public relations company Make it China will jointly launch 'Chinese Cookalong Live', an online cooking experience with partners such as the Sichuan Provincial Department of Culture and Tourism, focusing on the signature dish Mapo Tofu, with its delicious flavours conveying the charm of Sichuan culture.
Wider China: This segment takes viewers on a journey into some lesser known regions and facets of China. Sky TV's "China Hour" program will broadcast "Signature Flowers of China" from September 30, telling the story of flowers in English gardens that originated in China. In addition to virtual attendance at the 2021 WTM London, the UK team will also cooperate with media channel iPanda, to promote culture and tourism via the collaborative brand "Panda Watching 365".
Collaborative China: This theme forefronts the outstanding results of cross-cultural endeavours in the arts. October 7 will see the launch of the new Sino-British co-production "Untamed", a fantasy/drama/biopic feature film based on the true story of famous Chinese translator Zhu Shenghao, who overcame many difficulties to translate Shakespeare's complete works in the early 1900s. Phil Agland, renowned British director and winner of Golden Goblet, BAFTA and Emmy Awards, will travel to China to produce the documentary series "The Cradle of Nature", featuring China's Sanjiangyuan National Nature Reserve.
Historical China: The "Rediscovering China in the UK" series of online lectures is a new brand launched in 2021. Upcoming talks include Prof Jean-Christophe Iseux Baron Von Pfetten relating "A Red Baron's China Story"; Assistant National Curator Emile de Bruijn of the National Trust and other renowned experts will share their stories of China. The Consulate General in Manchester, SACU, the Sun Yat-sen Cultural Foundation, and the UK Research & Development Centre for Chinese Traditional Culture will launch a series of commemorative activities on the Revolution of 1911. CNTO London and partners will continue to share the engaging video series detailing the story of China's "Twenty-Four Solar Terms".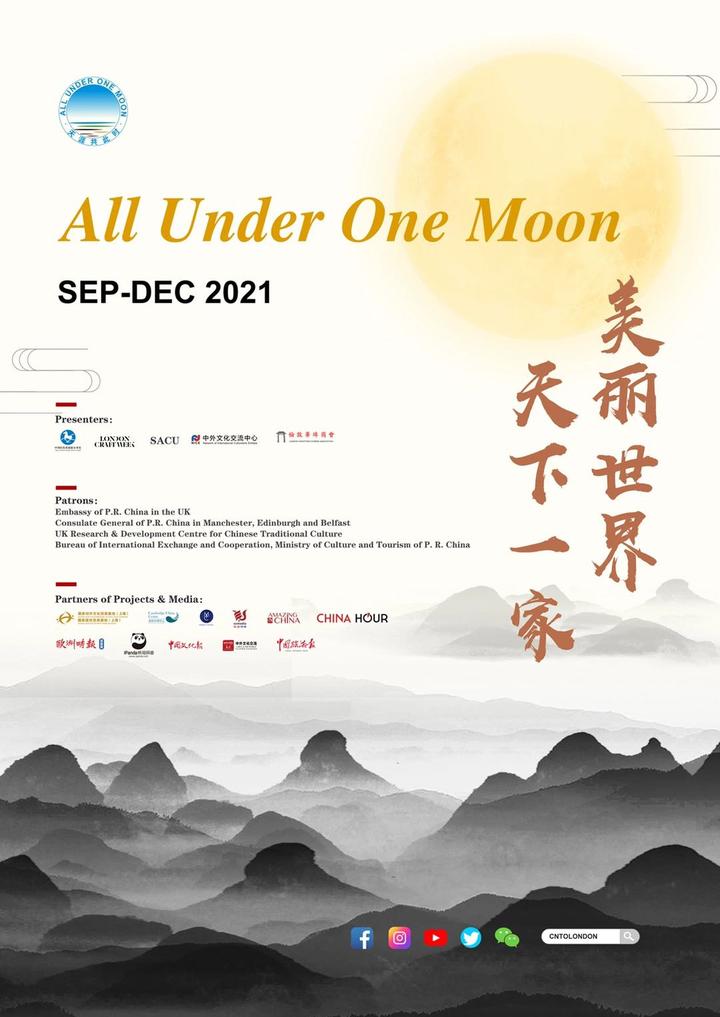 Chinese Ambassador to the United Kingdom, Zheng Zeguang, delivered a congratulatory speech at the online launch ceremony. He pointed out the aptness of the All Under One Moon programme. Core content includes examples of poverty alleviation through cultural heritage preservation and rural tourism, and green development and ecological protection content forefronts the concept of harmonious coexistence between humanity and nature. Ambassador Zheng also noted that the event fosters China-UK people-to-people exchanges and bonds, stating: "China and the UK are representatives of the Oriental and Western civilizations. Every civilization has its unique beauty and creativity. Sharing this through exchange and mutual learning increases diversity and enriches all civilizations.
The All Under One Moon campaign will present over 40 projects of varying forms, aiming to make profound contributions to China-UK cultural exchange and cooperation during the pandemic.
Audiences can find more information at the dedicated landing page:https://www.subscribepage.com/auom2021