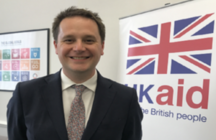 Richard Clarke, Department For International Development (DFID)
Richard Clarke is the Director General for Policy, Research and Humanitarian at DFID, a role that includes oversight of the work of the Government Equalities Office.
Catherine Raines , UK Trade & Investment
Lord Mayor Of London
Peter Estlin
The Lord Mayor, Peter Estlin. The Lord Mayor is the head of the City of London Corporation, based in the historic financial district of London which is also known as the Square Mile
Mark Joseph Carney (born March 16, 1965) is an economist and central banker. He holds Canadian, British and Irish citizenship and has been Governor of the Bank of England since 2013 and was Chairman of the Financial Stability Board from 2011 to 2018.
Carolyn Fairbairn, Director Of
Confederation of British Industry
Houlin Zhao, Head Of
International Telecommunication Union