With just over three weeks to go before the 12 December election, the leaders of the three largest parties in England have been parading their business credentials at the CBI annual conference 2019 yesterday
PM Boris Johnson told business leaders he will puts corporation tax cuts on hold to help fund NHS if his party win the election next month. But it may cost the Treasury £6bn and this was better spent on "national priorities", including the health service. Mr Johnson added
Addressing the audience of top executives and entrepreneurs, PM said they had "created the wealth that actually pays for the NHS". Stressing his party's "emphatic belief in fiscal prudence", he said he had decided against going ahead with a further cut in corporation tax, a step first proposed by Chancellor George Osborne in 2016 to boost business in the wake of the Brexit referendum.
Mr Johnson said the UK already had the lowest rate of corporation tax of "any major economy" and further cuts would be "postponed".
The announcement does not mean any new money for the NHS, on top of the £20bn extra a year the Conservatives are promising to give it up to 2023. It means the cash will be used, in part, to fund existing pledges on GP training etc.
Jeremy Corbyn said business had "so much to gain" from a Labour victory in terms of investment while Jo Swinson said the Liberal Democrats were the "natural party of business" because they wanted to cancel Brexit.
Labour said business "handouts" had done real damage and the Tories would "revert to type" after the election.
Given the government's argument has long been that cuts to corporation tax raise revenue, it is interesting to see the PM now say that cancelling cuts will also raise revenue.
It is meant to show clear blue water between the Conservatives and Labour on fiscal credibility. In the event, there was barely a squeak out of the CBI audience about a significant multi-billion pound tax change.Turning to Brexit, the Conservative leader told the conference that while big business did not want the UK to leave the EU, his withdrawal deal would provide the certainty "that you want now and have wanted for some time".
If elected with a Commons majority, Mr Johnson is hoping to get the agreement on the terms of the UK's exit into law by 31 January, and begin talks with Brussels on a permanent trading relationship.
He also announced a review of business rates in England, with the aim of reducing the overall burden of the tax, as well as a cut in National Insurance contributions for employers, which already benefit from a reduction known as the employment allowance.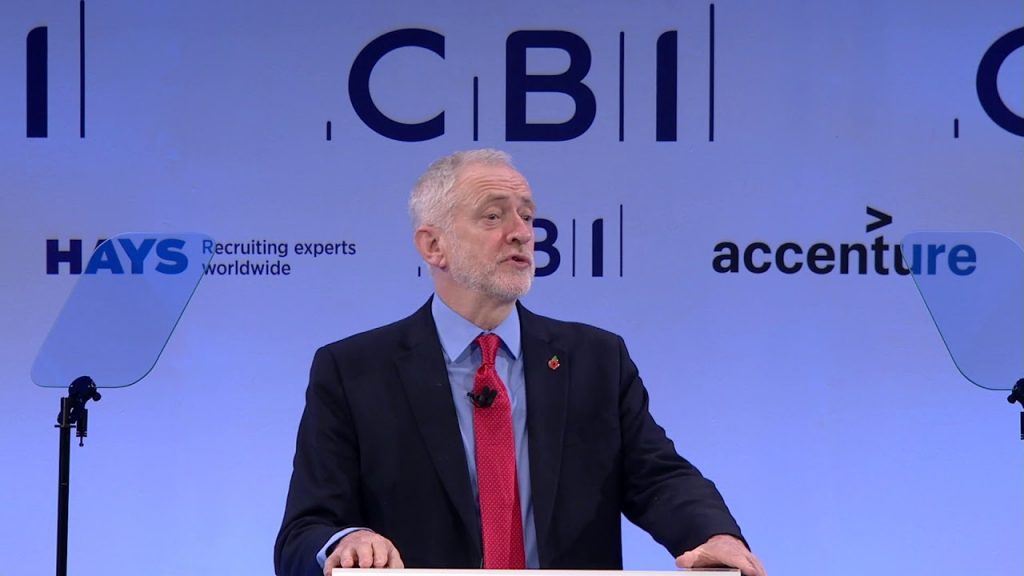 Labour's leader Mr Corbyn addressed that business had nothing to fear from a Labour government, arguing that while the richest would pay more, there would also be "more investment than you have ever dreamt of".
Labour's plan has been to raise corporation tax to 26% – the 2011 level – which it says will generate billions to be spent on its priorities, including health and education.
Mr Corbyn said he understand your concern over some of their plans and he would "make no apologies" for the party's plan to take rail, mail, water and broadband delivery into public ownership, saying it was "not an attack" on the free market and would bring the UK in line with the continent.
"It is sometimes claimed I am anti-business," Labour leader said. "This is nonsense. It is not nonsense to be against poverty pay. It is not nonsense to say the largest corporations should pay their taxes, just as small companies do.
The Labour leader also set out plans to train about 320,000 apprentices in jobs such as construction, manufacturing and design within the renewable energy, transport and forestry sectors.
Speaking ahead of all three main national party leaders at this year's CBI Annual Conference, Ms Carolyn Fairbairn, Director- General of CBI argued business held many of the keys to the future of the UK – and whichever party is in power, business and government must form a determined partnership.
She warned against dangerous ideology from both sides of the political divide – and urged for a return of evidence and fact at the heart of the economy.
Ms Fairbairn called for a relentless focus on competitiveness – because the UK was at a real risk of losing out globally. Among the issues that need addressing, she cited industrial strategy, business rates, immigration policy, R&D spend, skills gaps and infrastructure. And she singled out the importance of deskilling the UK's workforce so that everyone, from every background, was in a position to prosper in the new technology age. We stand on the threshold of a new decade. With the chance for all of us to shape what comes next. Making this one of the most important elections in our lifetime, and 2020 is one of the most important years
Editor: James Norris